The JEFF go for Gold Workout
Join SA athletes, top bands and the global JEFF community as we #GoforGold in an epic 12-hour workout this June!
In proud partnership with Discovery Vitality and adidas.
Saturday 26 June | 8am - 8pm
As our athletes prepare for their greatest challenge yet, we're asking all South Africans to do the same in a sensational 12-hour workout spectacle. Choose a goal that you have yet to reach, and for the next month JEFF will help train you into top shape, so that you can challenge the only record that matters: your own!
Then join the JEFF Team and SA athletes virtually and #GoforGold by pushing yourself to new highs, while raising funds for the MENstruation Foundation.  
If you're a Discovery Vitality member, you could earn 300 Vitality points when joining selected workouts. There's something for everyone. Plus, stand to win some awesome prizes along the way!
---
REGISTER & TAKE PART
Registering is super easy and FREE!
1. Create your free JEFF Web App profile. if you're not already part of JEFF.
2. Then, click here to get your personalised "#GoforGold Number." Share it on social to stand to win a pair of adidas UltraBoosts! Use the hashtag #GoForGold in your post and don't forget to tag us!
3. Join us on 26 June on the JEFF Facebook page and let's #GoforGold!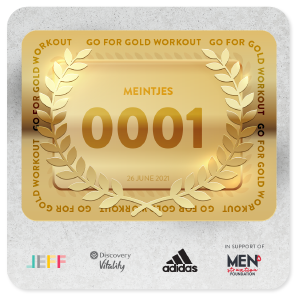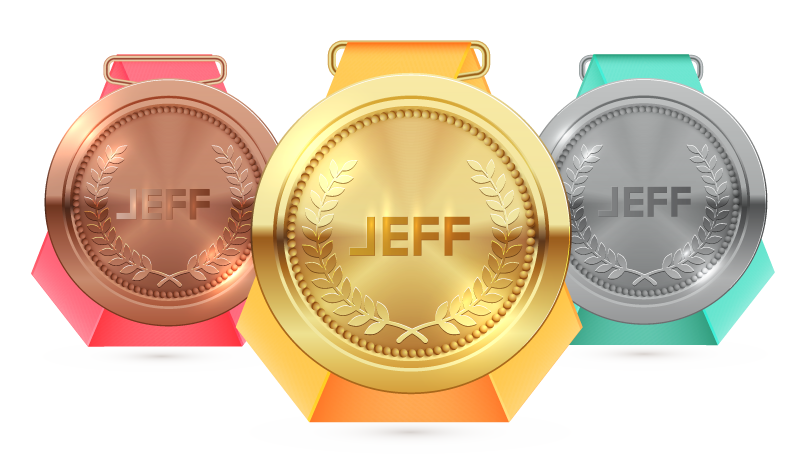 EARN A VIRTUAL MEDAL
Earn a Gold, Silver or Bronze virtual medal by taking part in the workout!

We're encouraging you to go for YOUR Gold! There's an athlete in all of us and we want you to challenge yourself to push your limits.
How are the awards measured?
Gold medal - 4 hours of activity
Silver Medal - 3 hours of activity
Bronze medal - 2 hours of activity
For every gold medal earned, The JEFF Team will donate one pack of sanitary pads to The Menstruation Foundation. Who's with us?!
How to Log your activity
Log your workout and activity on the JEFF Web App including the number of minutes you participated for, before 8pm Saturday 26th June in order to earn your medal! All Medals will be delivered to your inbox at 8pm on Saturday.
HELPING OUR GIRLS #GOFORGOLD
We're supporting the MENstruation Foundation
Over 4 million girls & women in schools, varsities and sports clinics miss education and training for an average of 5 days per month because of lack of access to sanitary products. The MENstruation Foundation is working hard to end "period poverty" by providing locally-made compostable sanitary pads to those in need via innovative methods such as non-electrified vending machines!
We will be supporting this incredible initiative and encourage you to make an optional donation of whatever amount you choose to the Menstruation Foundation. Plus JEFF will donate an additional pack of sanitary pads for each Gold medal earned by our community on the 26th of June!
SCHEDULE
26 JUNE 2021
All workouts will be live streamed to you to join from the comfort of home.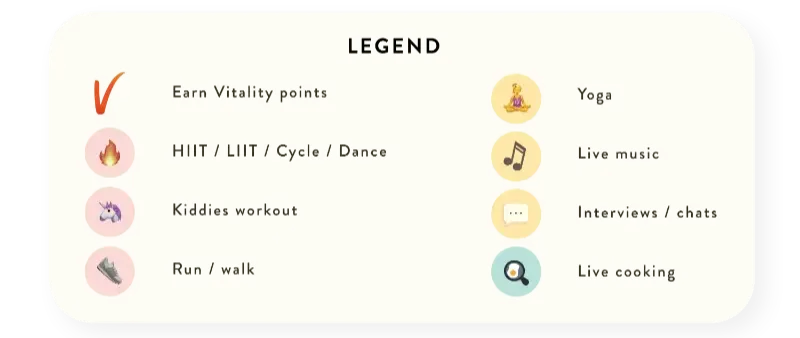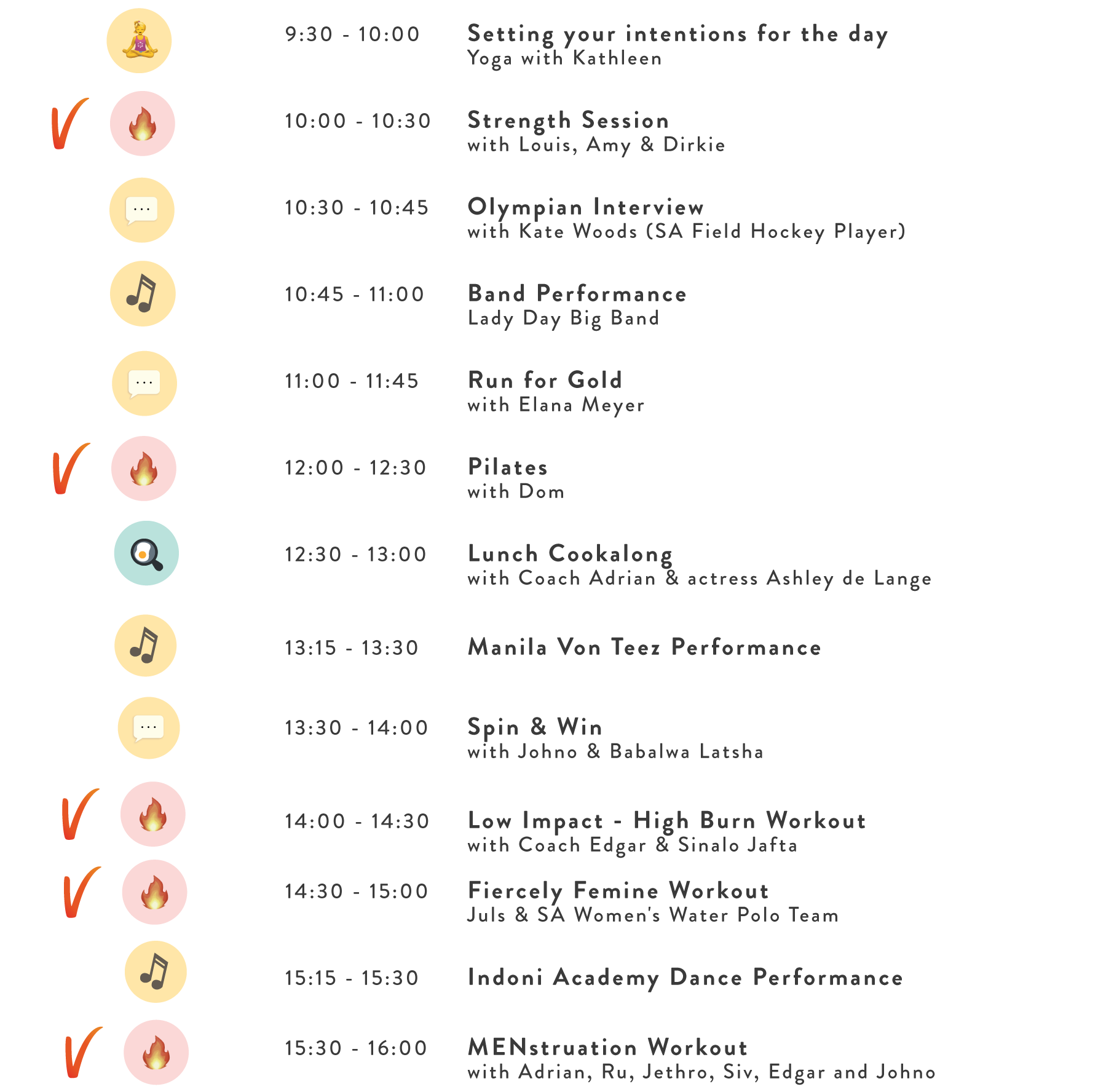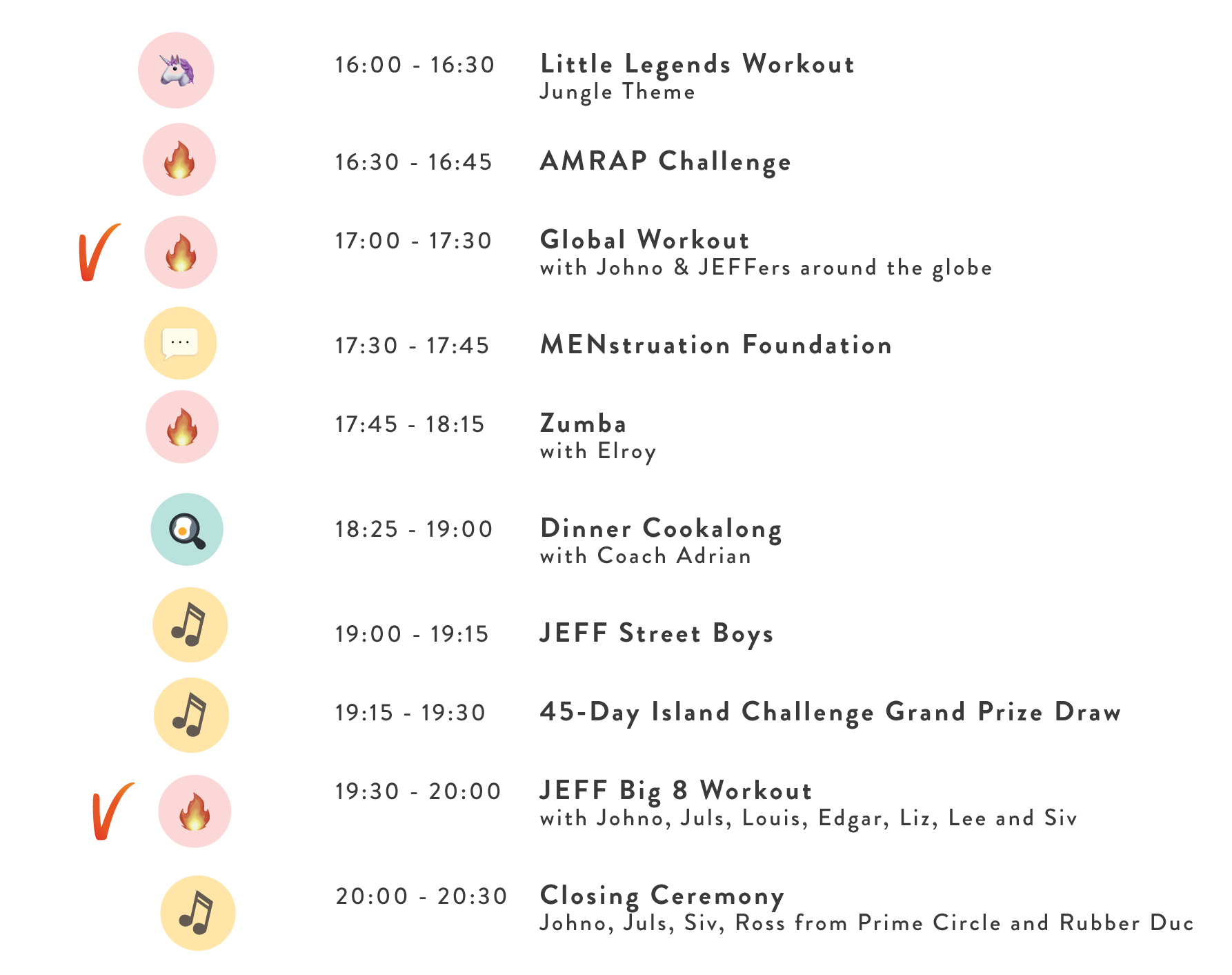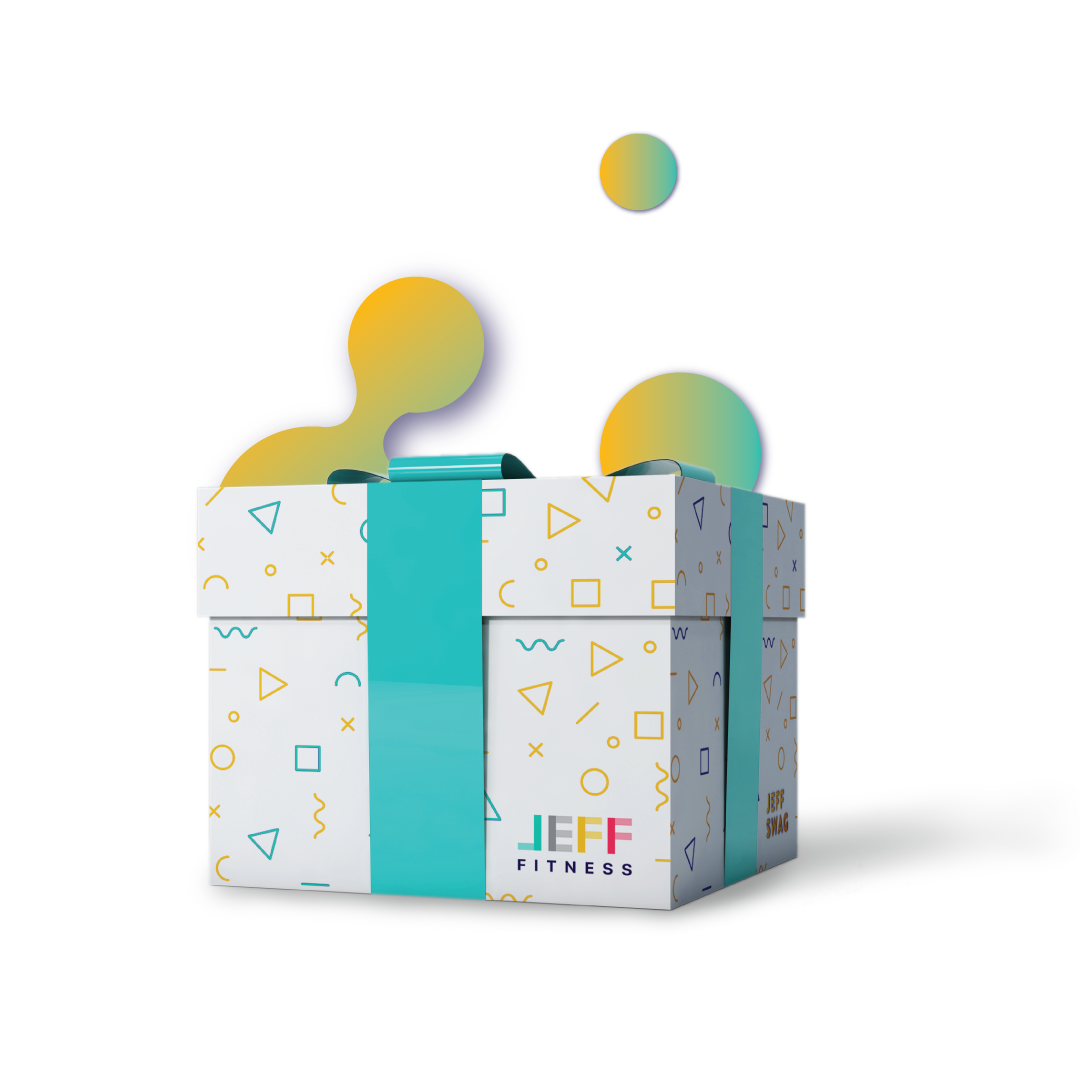 PRIZES UP FOR GRABS
There will be some incredible prizes from adidas and JEFF plus a luxurious 2 night stay at a Camps Bay apartment, courtesy of Nox Rentals up for grabs. To be eligible to win, all you need to do is register for the event and show up on the day! On the day of the big event, our instructors hosting each session of our 25-hour marathon will share more information about what you need to do to win.
EARN 300 VITALITY POINTS
Vitality members can earn 300 Vitality points for completing a workout for 30 minutes or longer. There will be multiple workouts to choose from which will be happening throughout the day! Make sure to log your workout with Vitality before 09:00 on the 28th of June 2021.
More about the JEFF x Vitality Partnership:
Join JEFF Life for only R150 per month if you're a Discovery Vitality Member! Vitality Members also receive 50 Vitality points per day if they do 30 minutes or more of exercise from within the JEFF Web App!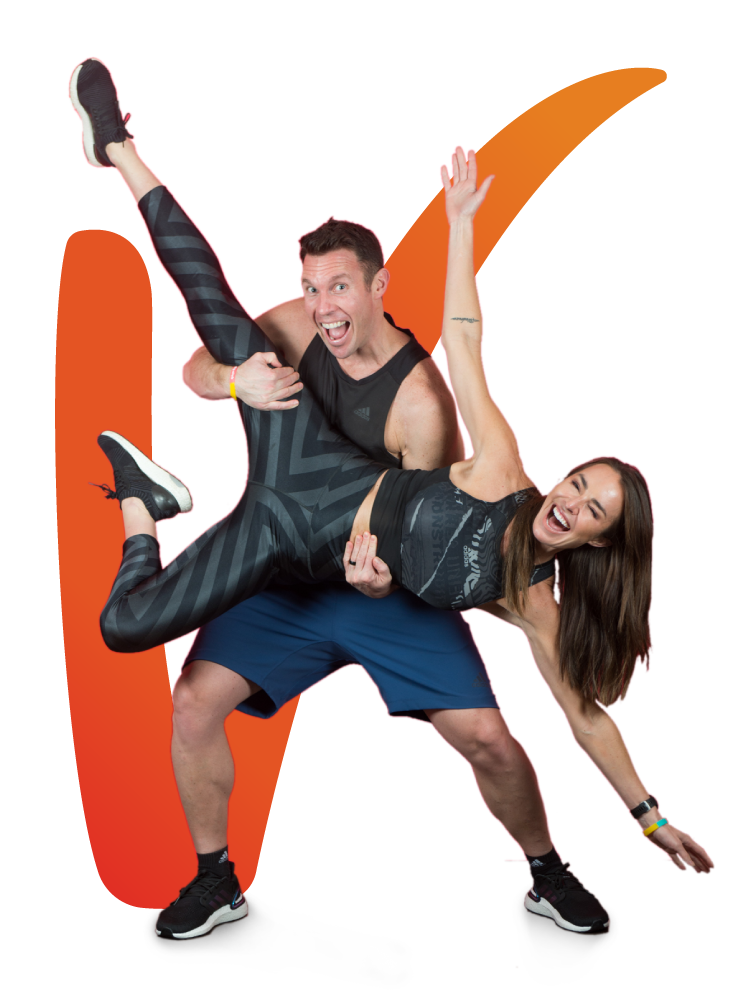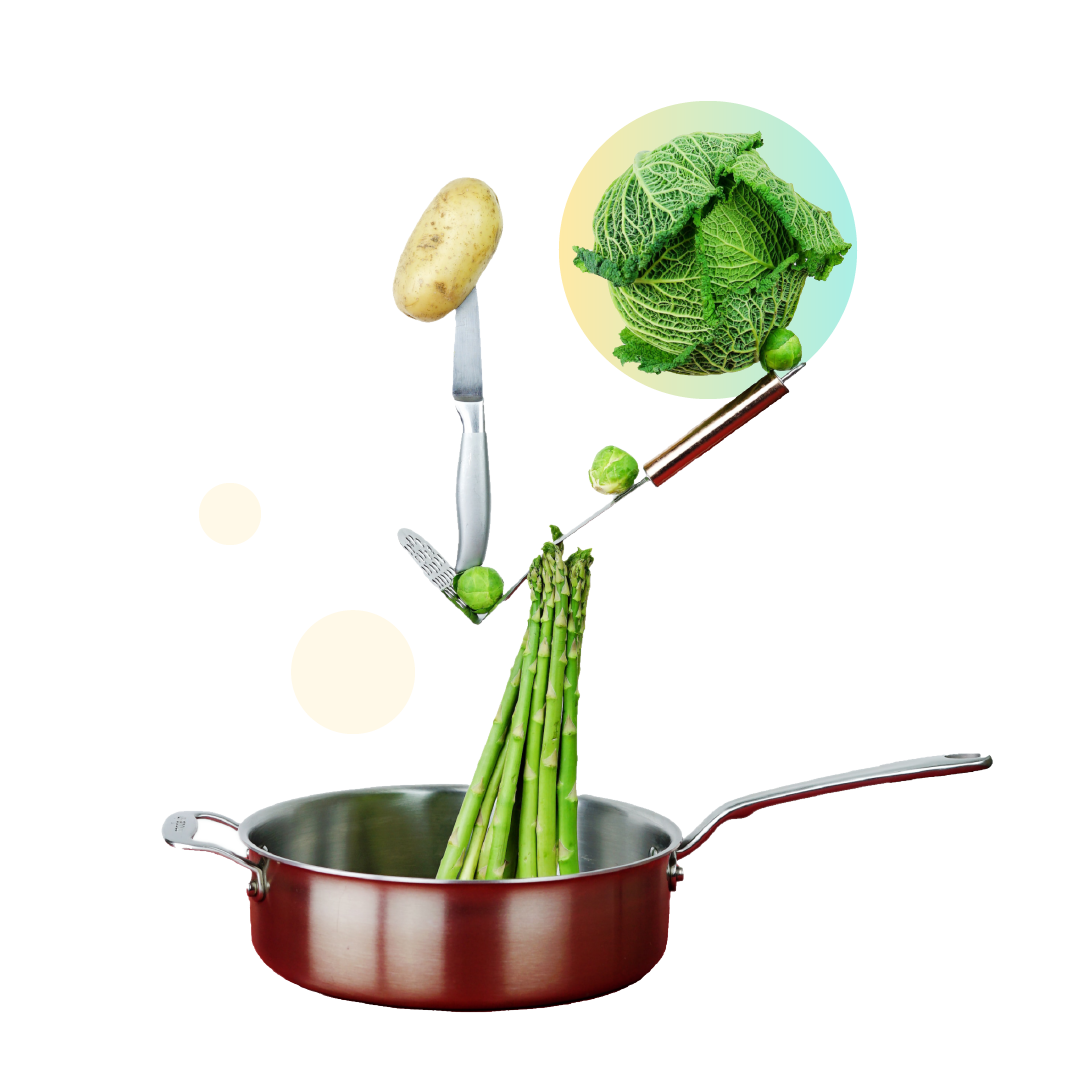 COOK WITH US
Get the ingredients list & recipe book
We've compiled a recipe book with all the dishes we will be preparing on Saturday for the 12-hour Go For Gold Workout marathon! Not only will there be live cookalongs, we will also have entertainment, interviews and workouts with South Africas top bands, Olympic athletes and celebrities. Get prepped for the cooking events by making sure that you have all the ingredients beforehand!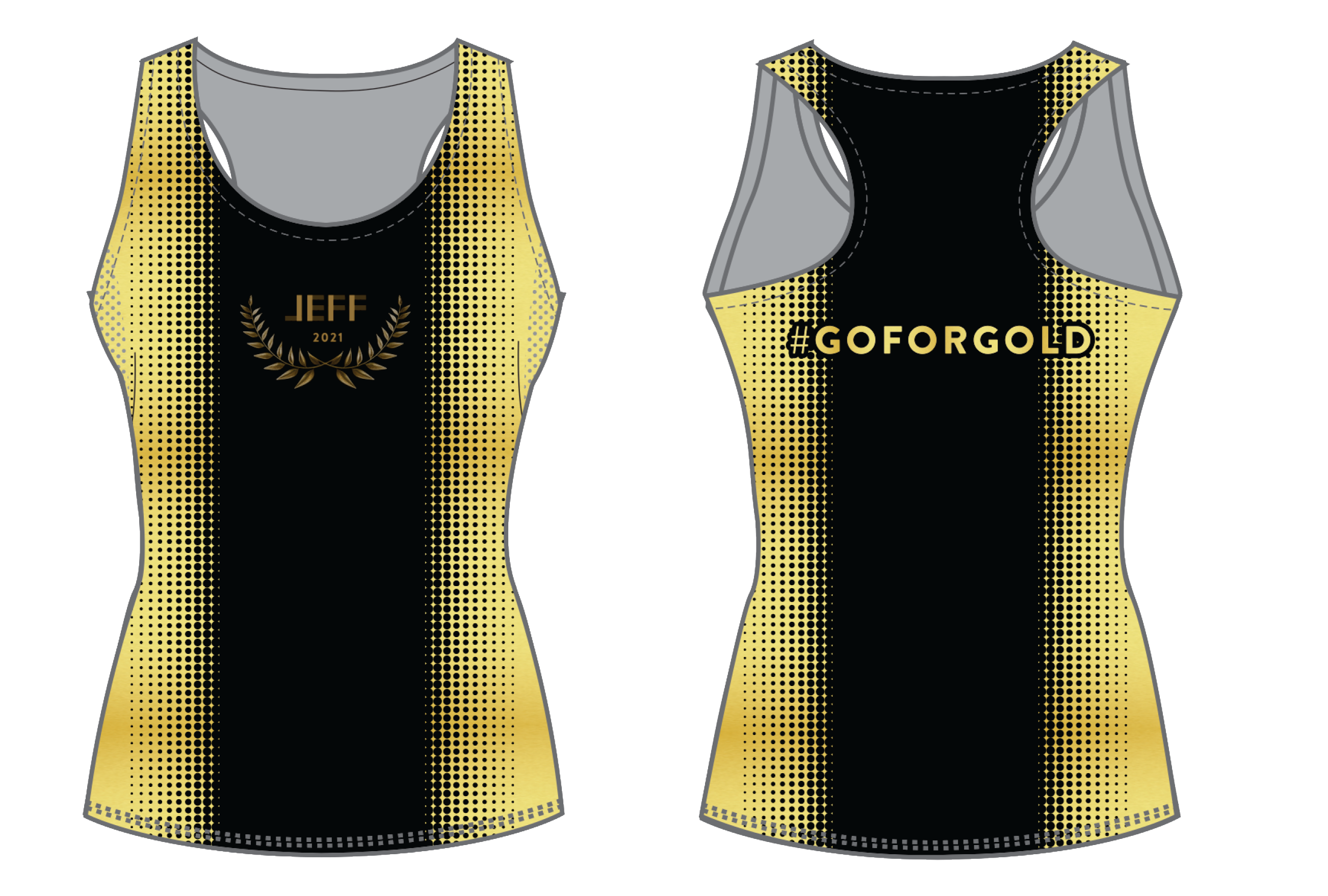 LIMITED EDITION SWAG
Get our #GoforGold swag! We've launched a stunning bundle for you to wear proudly as you build up to the 26th of June (and afterwards so that you can say: "Been there, done that, got the t-shirt")! Included in the bundle is a buff and your choice between either a mens or ladies vest!
What our community members have to say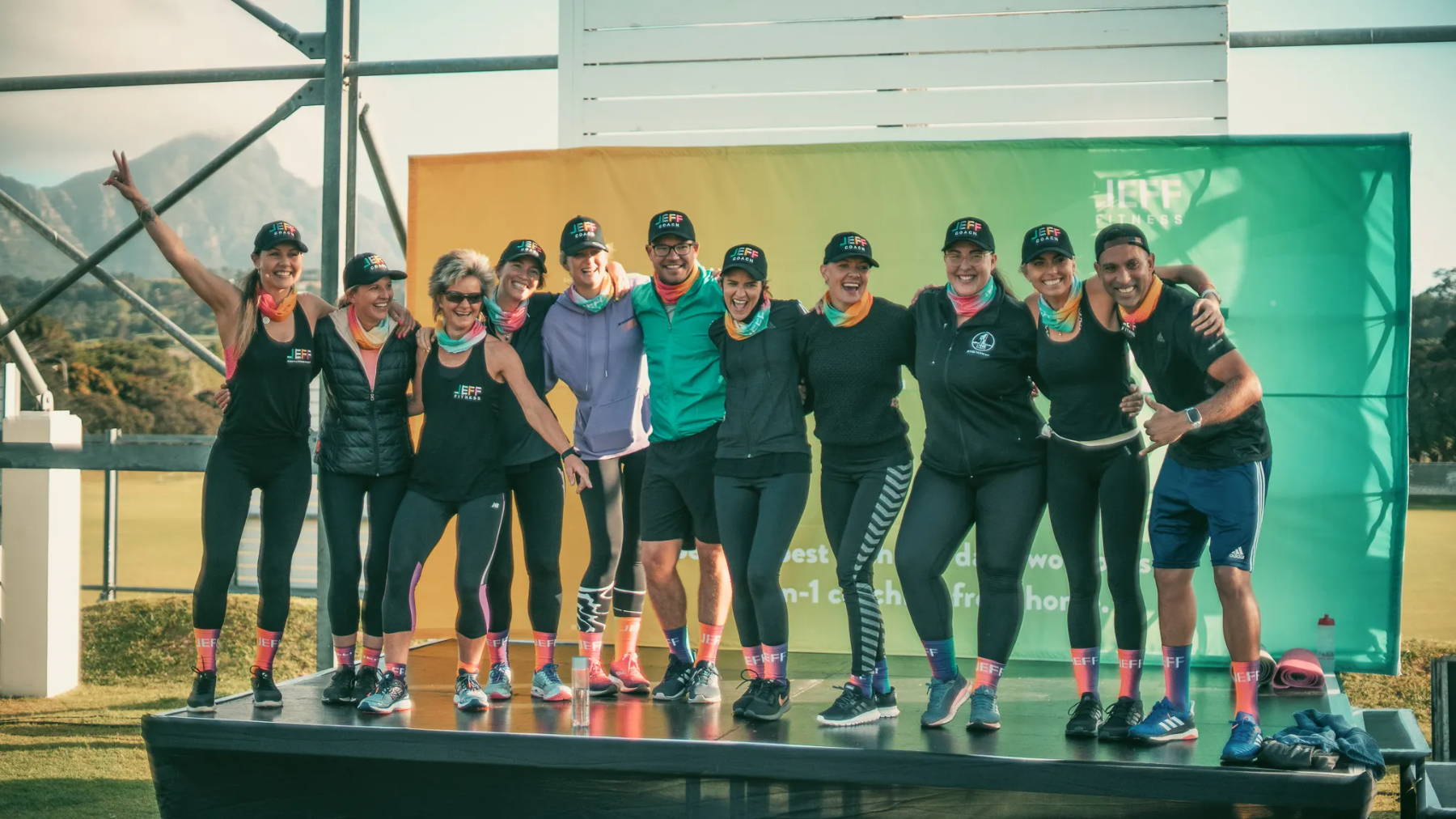 "Being a member of this LEGENDARY community has changed my life! The value for money I get for this is unparalleled!"
- Kim Ketley
JEFF LIFE MEMBER
"The workouts, recipes, guided runs and the brilliant events are just some of the features that I use regularly. I love this platform and the best part is that the community behind it have now become family."
- Shivani Maharaj
JEFF LIFE MEMBER
"It's amazing how people can connect without even knowing each other, and it's such a positive feeling to know that you can just check in, that you have people there rooting for you. "
- Rosalind Thomson
JEFF LIFE MEMBER
GET STARTED WITH JEFF FOR FREE
Get in on the action, for free!

Get access to selected classes every day! All you need is to login to the JEFF Web App to get access. Don't have an account? Get started today, for free!