Get the support you need for the results you've always wanted.
Hi there, welcome to the world's most supportive fitness community! Whatever your goal, we're here for you, every day. 
"Life-changing. I'm in the best shape of my life. JEFF is a game-changer for those who've tried everything to lose weight and build strength. I can't recommend it more highly!"
- LOUELLA
Let's choose the right approach
for your busy life!
Click the arrows below to explore. 
GET STARTED WITH THE WORLD'S MOST SUPPORTIVE FITNESS COMMUNITY
60+ WEEKLY LIVE CLASSES WITH WORLD-CLASS INSTRUCTORS
Feel the energy and support of our incredible community of 68,000+. Choose from cardio, strength, yoga, pilates, zumba, and more!


FOR EXPERT-LED ONLINE PROGRAMS & EXCEPTIONAL GROUP SUPPORT
Choose from our latest Challenges, and a huge library of fitness programs, or have us recommend one to match your needs. Explore exciting seasonal menus, featuring 100s of recipes, with portions tailored to your goals. Look forward to new content each month to keep it fresh! Feel tremendous group and community support every single day!


JEFF CLUB

+

1-ON-1 COACHING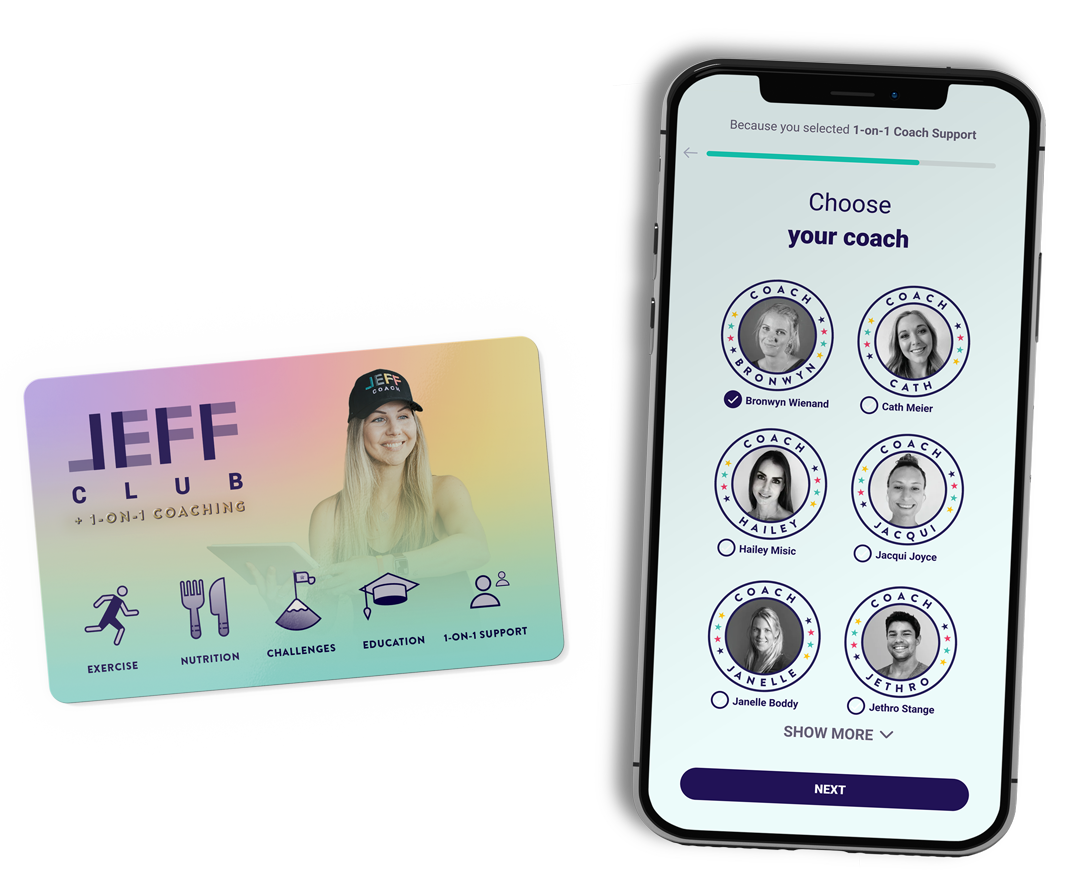 FOR INDIVIDUALISED PROGRAMS & ULTIMATE SUPPORT
Add a world-class 1-on-1 Personal Coach on top of everything in your JEFF Club membership. Get an individualised exercise and meal plan, and unparalleled daily accountability, guidance and direction! All delivered online. It's life-changing!


You're the reason we do what we do.
"It's a whole body, mind and soul transformation." - Cindene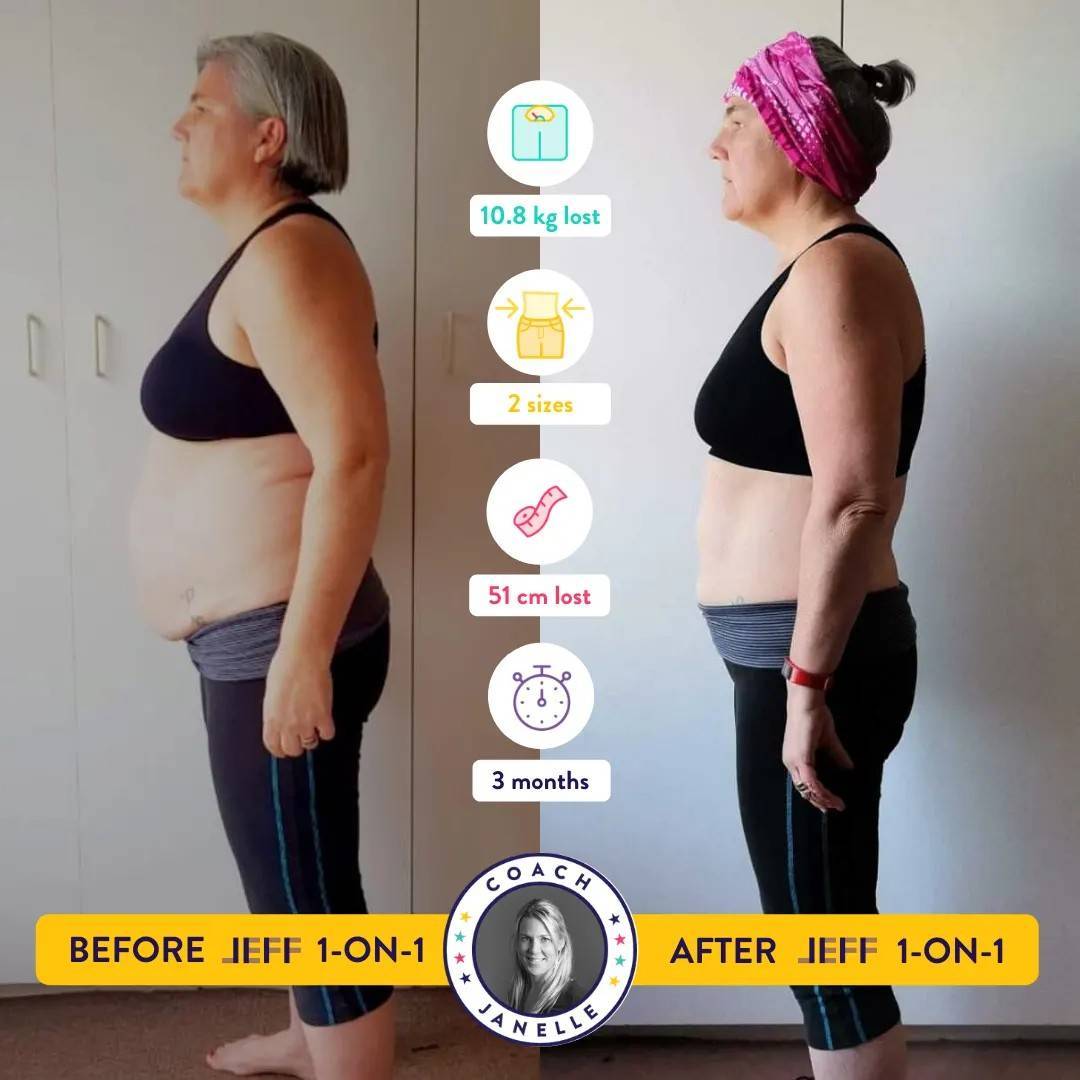 "I can't say enough about how incredible JEFF is, helping with accountability, commitment and behaviour change in every area of your life: fitness, eating habits, water, sleep, rest, positive attitude and how to value yourself!"
- Tanya, with Coach Janelle.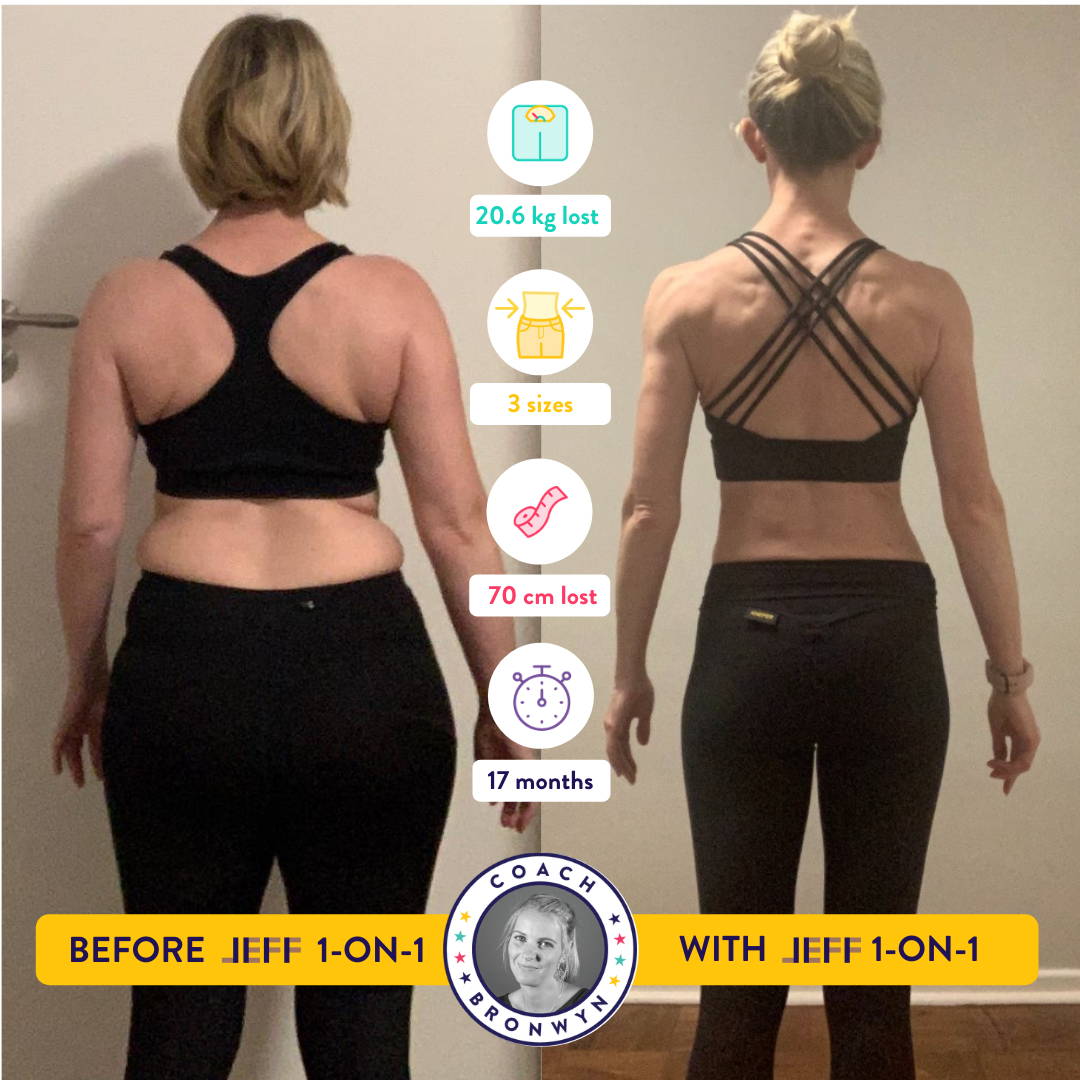 "They say a picture speaks a thousand words. These speak thousands more about my 1-on-1 journey with JEFF. I started out with much trepidation. Coach Bronwyn is always there for motivation, believing in me and most importantly being a friend! Looking back now, I wish I'd signed up with JEFF months before because of the positive impact it has had on my life.⁠"
- Lauren, with Coach Bronwyn.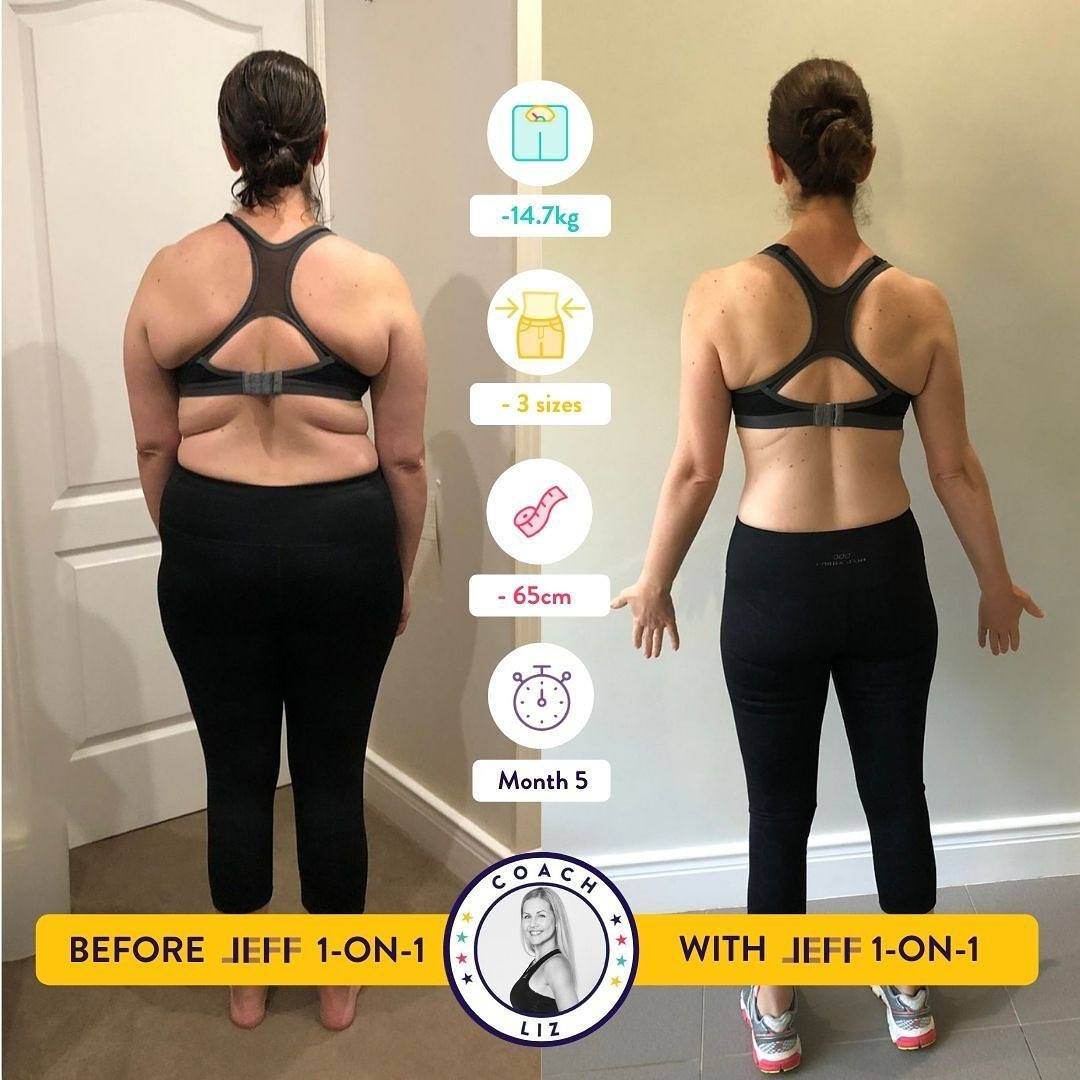 "My JEFF gains … not my scale losses. I am not less, I am MORE! Yes, I've lost weight, but more importantly I have gained so much more:

✔️ Learnt how to love myself as I am.
✔️ A solid nutritional education (just because I'm a doctor, doesn't mean I know this stuff, the education available to JEFFers is astounding).
✔️A healthy relationship with food.
✔️ Muscles.
✔️ A new wardrobe!
I have my life back. I AM LIVING!
I am not less, I am MORE!"
- Rose, with Coach Liz.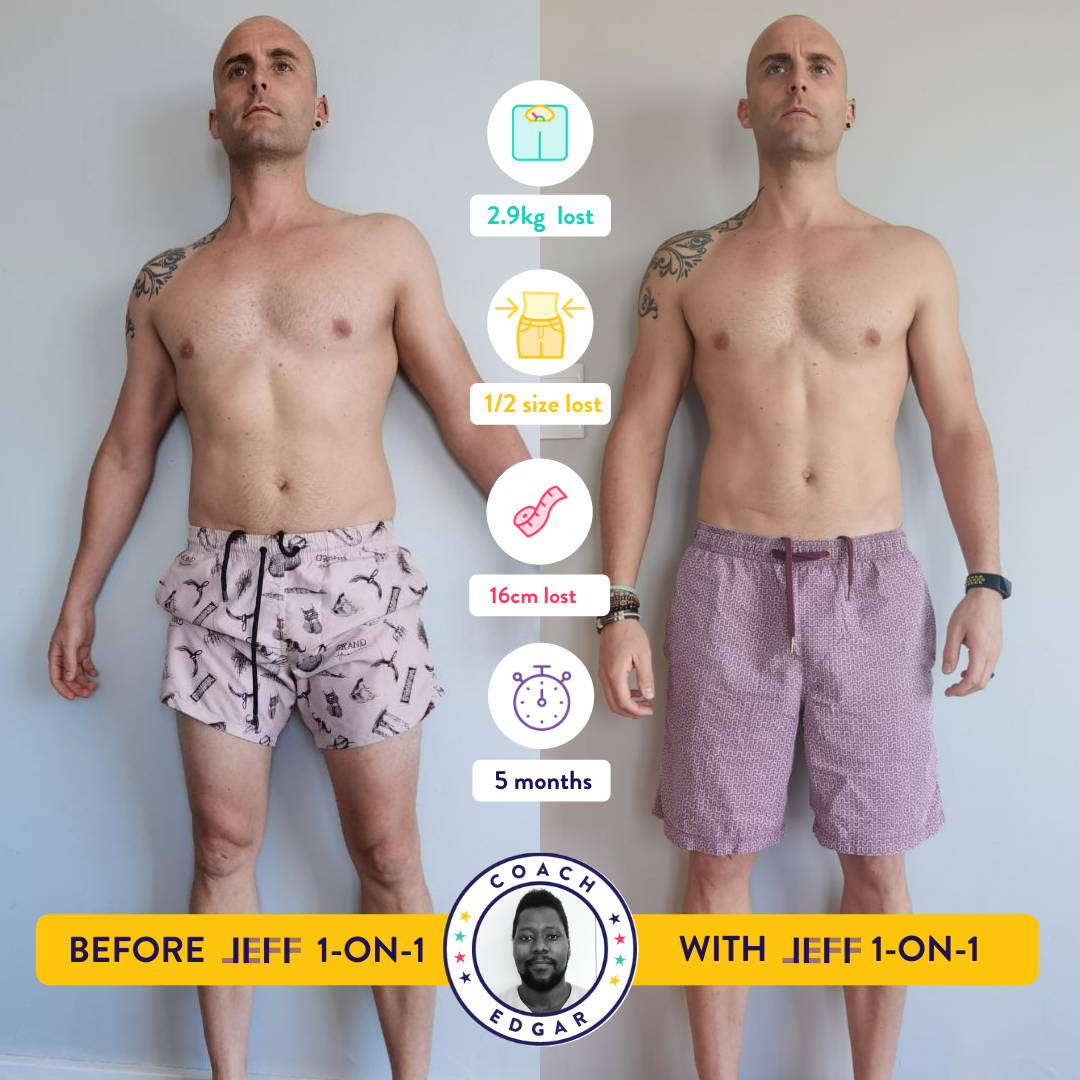 "You join a gym and they tell you how to workout. You sign up for JEFF and they show you how to live your life. It's incredible!"
- Clinton, with Coach Edgar.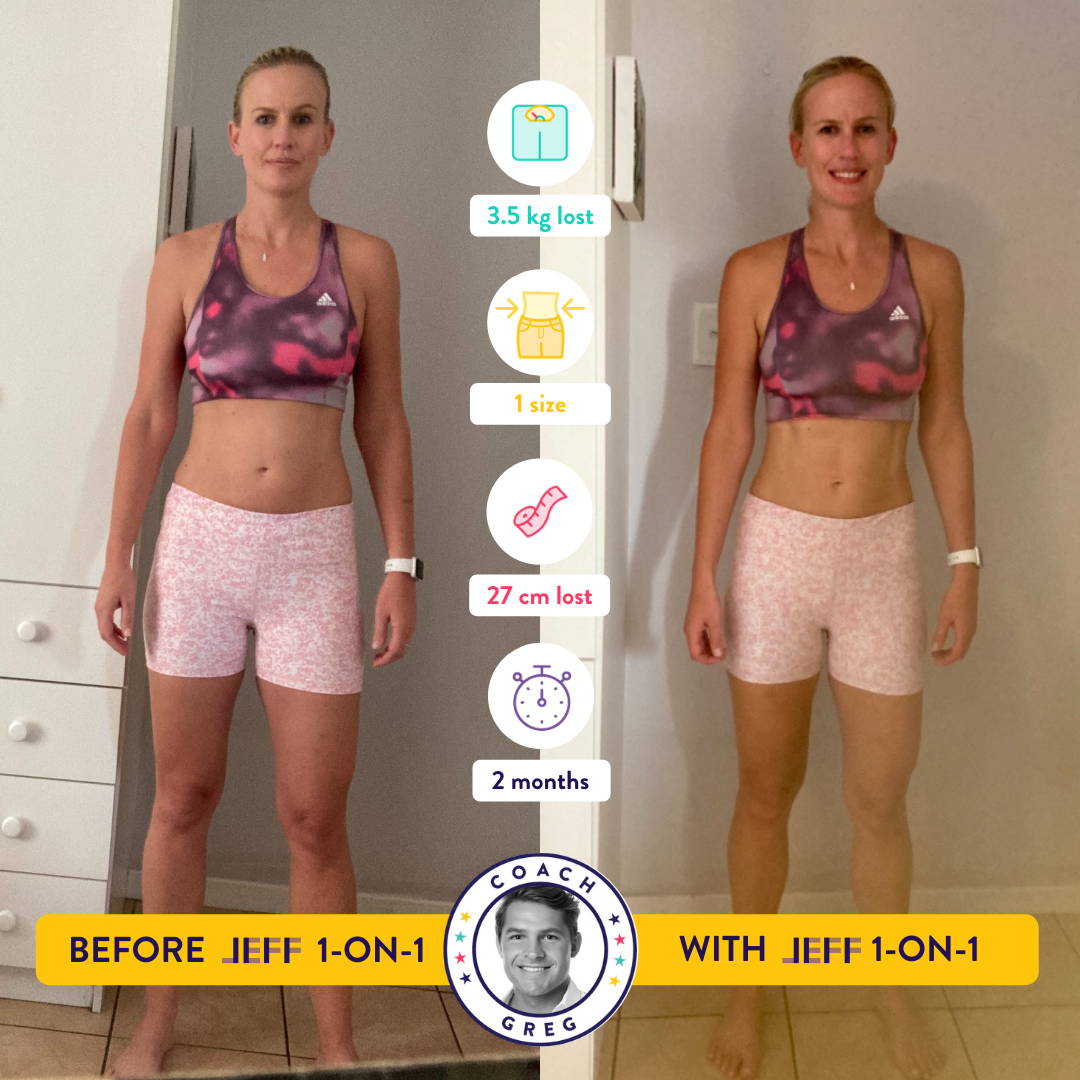 "I'm a lot more confident, I'm in a really happy place. It's a whole body, mind and soul transformation. Being on the program was honestly the best thing I've ever done. The habits are now in place, I've changed my lifestyle and I'll continue with it going forward."
- Cindene, with Coach Greg.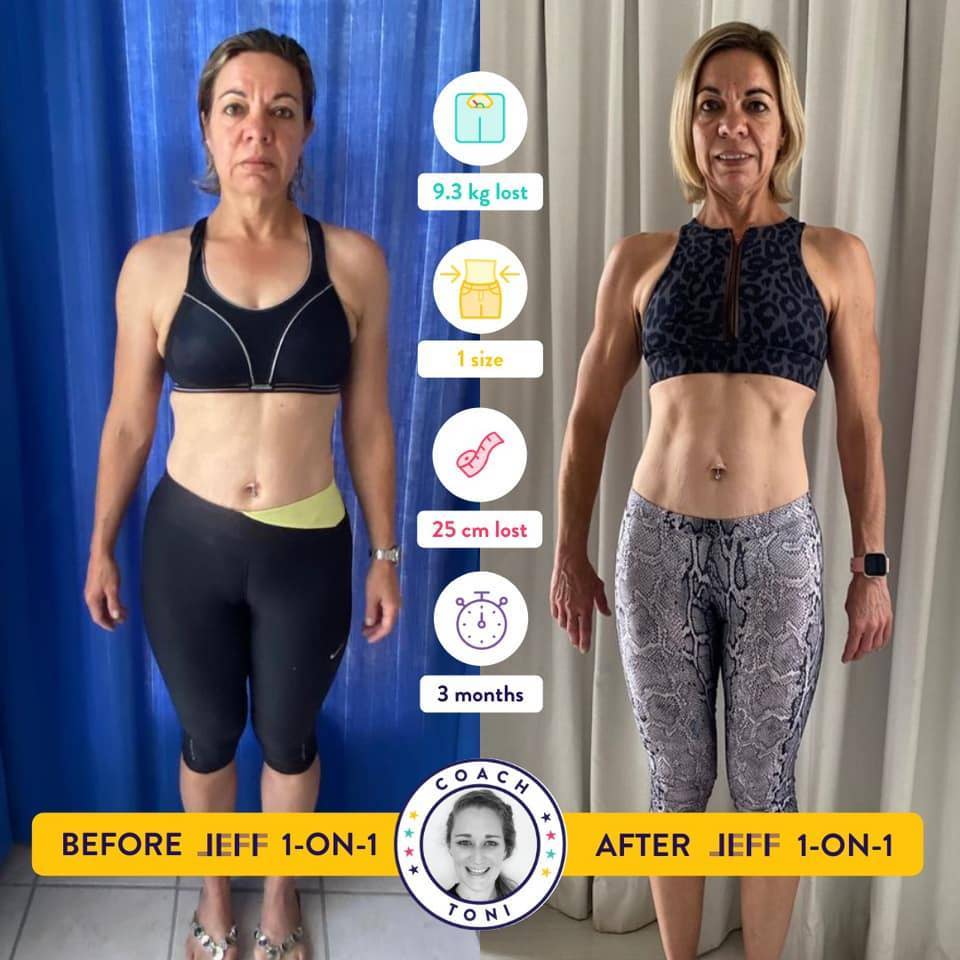 "I was always fit and strong but strayed away over the last year. So what makes JEFF so special? The incredible support of my coach and the community. I love my nutrition plan. Not a diet. A lifestyle. And all the recipes. My family follows it with me and they are satisfied. I love training. I love the fact that you can do it from your home. I love the fact that a healthy lifestyle and functional fitness are being promoted. I love the fact that my program pushes me and I end up sweaty and feeling strong and fit. In one month, I gained my confidence back. I feel strong and fit and empowered.⁠ What are you waiting for? Do it."
- Liezel, with Coach Toni.
Never miss a thing!
Subscribe to our newsletter for recipes, workouts, guidance and amazing giveaways!